1. Log in to your school's web access.
Ugla at the University of Iceland, Bifröst, University of Akureyri, University of Hólar and the Agricultural University of Iceland.
Canvas at Reykjavík University.
Inna for high schools.
Schools that are not using Ugla, Canvas or Inna have to contact their school's service desk.
2. Choose "Settings".
"Portal" on Canvas at Reykjavík University.
3. Give permission.
Give Strætó a permit to get confirmation of your studies.
---
Buy fares at a student discounts
4. Login to "My pages" at klappid.is 
If you do not have an account, select "Register" and create an account with a phone number or email address.
If you have a Clap card, enter the card serial number and select the name of the card.
5. Select "Buy".
Press the button that says 

"Verify with E-certificate"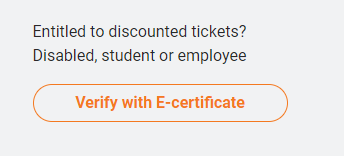 3. Verify with your E-certificate.
Now, period passes with a 50% student discount should be added to your product range. The image below shows what this looks like.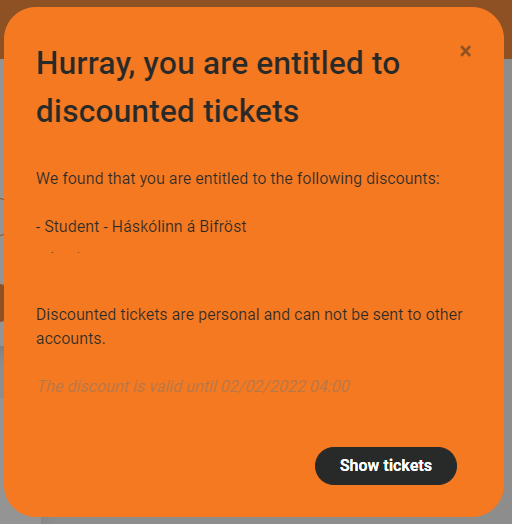 6. Choose "Period".
to buy one month pass or 12 months pass.
7. Choose "Add to cart" to purchase the period pass.
Make sure it say Student and the name of your school in the window.
If it says something else, click "Change" and choose fare for students.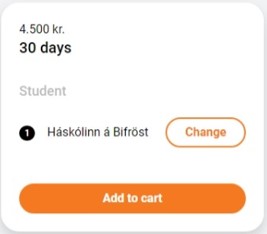 8. Choose shopping cart in the top right corner to pay for the card.

9. Now you just need to add debit- or credit card and pay.
Make sure your fare goes on the correct fare media. Either Klapp card or Klapp app.